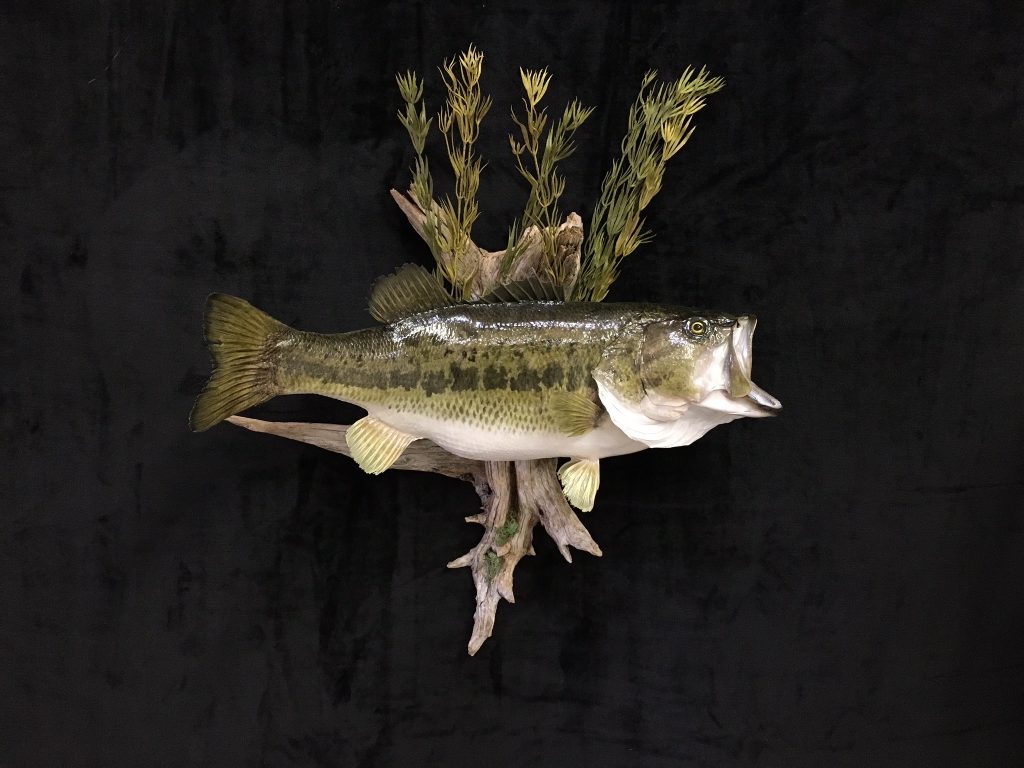 Q: Are your fish mounts fiberglass reproductions or skin mounts?
A: You can choose from either a skin mount or a reproduction fish when preserving your trophy. It is by combining the working knowledge of both mediums that we are able to more easily accommodate your needs.
Q: What species of fish do you mount?
A: From freshwater to saltwater, we have done many different species of fish. If it was legally harvested, we can mount it.
Q: What is the proper field care for a fish that will be skin mounted?
A: If you prefer the traditional form of fish taxidermy proper field care is absolutely essential to obtain a high quality skin mount. These are the steps you need to take to ensure the best mount:
Handle Carefully.—The number one thing to remember is to keep the fish cold until it can be frozen. Also, if in a cooler or fish box, keep your fish on top of others. This will help to eliminate any blotchiness of the skin that may occur if other fish lay on top of it. Do not gut or otherwise cut or damage your fish. Do not place your fish in a plastic bag or wrap it in newspaper.
Freezing.—As soon as possible, after your fish is caught, double bag it in a trash bags or some type of plastic. Next, lay it as flat as you can in the freezer. The plastic will slow down freezer burn damage, and laying it flat will prevent damage to the fins and scale loss.
Take photos.— Always remember to photograph your fish! Photos should to be taken soon after your fish is caught, because color changes will occur quickly.
Q: What information do I need to provide for a fiberglass reproduction?
A: If you intend to release your fish, we will need the information outlined in "How do I measure for a reproduction" below.
Q: How do I measure for a reproduction?
A: Take a measurement of the length from tip of the tail to the tip of the mouth. In addition, take a measurement of the girth (around the fish at its largest point).
Measure length.— The live fish must be measured before releasing it back into the water. The most essential measurement necessary is the overall length. This is a nose to end of tail measurement.
Measure girth.— A girth measurement, a circumference measurement at the largest part of the body (directly in front of the dorsal fin) is also helpful, although not essential if the fish is stressed.
Take photos.— Take photos. Good photographs will enable us to create an accurate fiberglass reproduction of your fish.
Q: What if I don't have flexible tape to measure with me?
A: No problem, use fishing line. Stretch a piece from head to tail and cut it at these exact points. Wrap a piece around the fish at the largest point and cut where they intersect. Save pieces and measure them at a later time. Good quality pictures are also very important.
Q: Can or should I send a photograph of my fish?
A: Absolutely, If you send a photo, we can look for details and special characteristics of your individual fish. Photos are especially important when recreating a reproduction fish. We work hard to produce a detailed, life-like trophy fish mount. To help us ensure the final result faithfully reproduces your catch, be sure to document any unusual things about your fish that you notice if you want it added to the finished product. Be sure to take a photo of the fish as soon as possible once it is caught.
Q: How do I ship a frozen fish?
A: Shipping methods can vary on outdoor temperature, distance and location of shipment. Contact me for specific instructions on shipping your trophy.
Q: How do I care for my finished fish mount?
A: All finished fish mounts, whether they are fiberglass replicas or skin mounts, should be kept out of direct sunlight to reduce fading from UV light. They also need to be dusted to keep that "just caught" luster.
Q: Can a mounted fish be repainted or repaired?
A: Most mounted fish can be repainted or repaired depending on the extent of the damage. Prices will vary depending on what actually needs to be done. Give me a call and I can provide a quote
Q: What are some examples of habitat that I can choose?
A: Driftwood is the most common object used in fish mounts; however, your imagination is the limit. We can add anything you desire.
Q: What is your turn-around time?
A: This varies depending on the project. Call for an estimated turn-around time. Expedited Service is available on most mounts
Q: What is the price of your work?
A: Prices vary according to the species and size of the fish, and any extras such as panels, driftwood, background or the habitat involved.
Q: Can you ship my completed mount?
A: Yes, we can ship your mount anywhere you like. We take great pride and special care of the delivery of your mount. Your trophy fish mount will be carefully crated and is typically shipped via UPS. We ship worldwide, and every shipment is insured. Please call us for details on shipping and shipping fees
Q: What methods of payment do you take?
A: Cash, check, money order or credit card (Visa, MasterCard, American Express, Discover)